Mparmparis LTD has been started since 1980 in Corfu,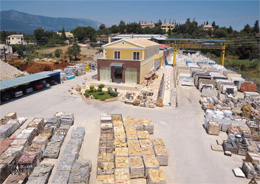 Greece as a marble store and through the years take over bigger market share to be the biggest company in its sector nowadays.
On 2003, the company has moved to new state of the art facilities privet owned total 6.000 m2.
On 2004, tiles and hygiene products has been introduced to its showroom.
On 2008, energy fireplaces and stoves has been the new entry.
On 2012, introduce alternative fuels for fireplaces such as pellet and briquettes.
Till then, more products and services have been introduced to offer more complete
services and products to our customers.
The multinational brands and cooperation have been broadening our product range.
Silestone, La Nordica, Kerakoll, Isomat, Kerasan, Norpeis, Carron, Teorema and many more, only few of the companies who work with us.
Visit us and learn more about our products and work.